Introduction: Online Grocery Shopping In India
[Excerpts from "Online Retailing Paired with Kirana—A Formidable Combination for Emerging Markets" by Prof. Piyush Kumar Sinha, Srikant Gokhale and Saurabh Rawal in Customer Needs and Solutions (2015) 2:317-324]
Even when online business represents less than 10% of retailing and about 1% of grocery retailing, it is disruptive and forces every other format to rethink their strategies. Initial online retailing experiments in the grocery sector, such as Webvan and Peapod, were unsuccessful; however, some recent initiatives in India are expanding rapidly. Online grocery retailers such as bigbasket.com and grofers.com are expanding to multiple cities, and large online retailers like Amazon, Flipkart and Snapdeal have also announced their intention to sell groceries in India.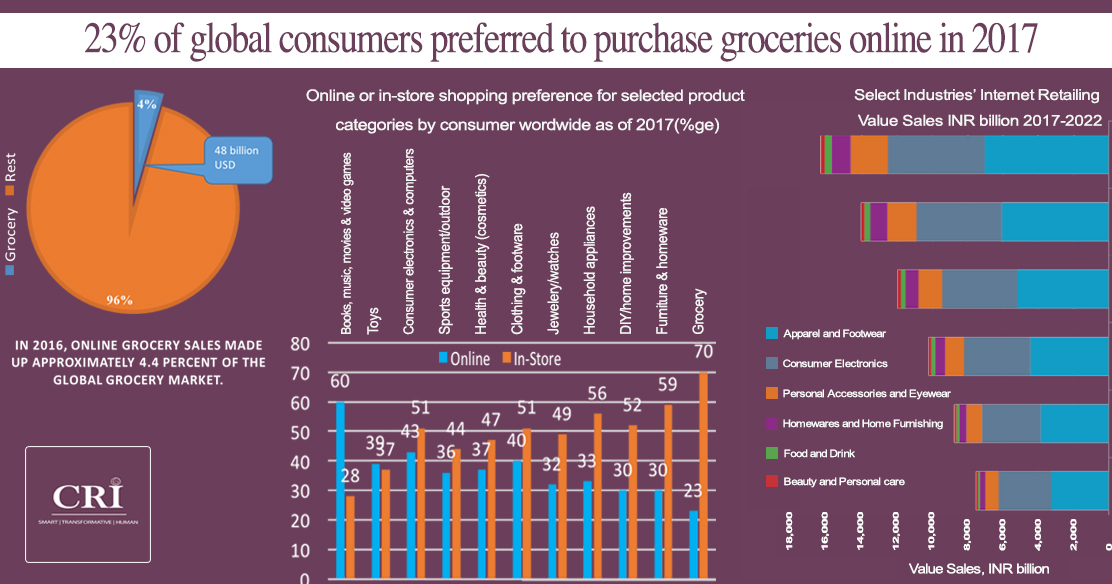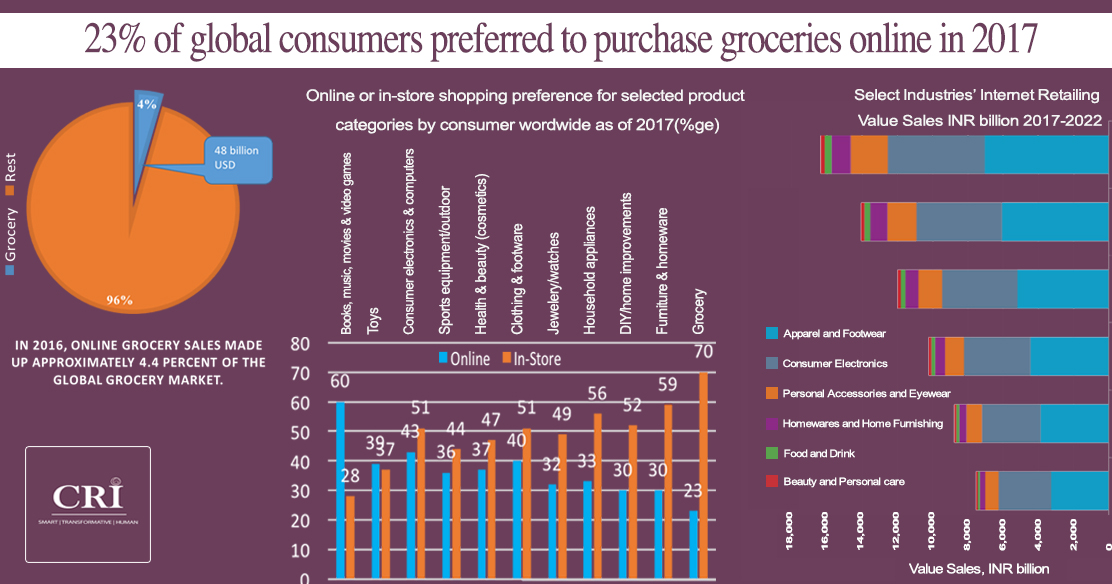 Image Sources: 
https://www.statista.com/statistics/692871/global-online-shopping-preference-by-category/
https://www.statista.com/statistics/730982/online-grocery-sales-share-worldwide/
https://www.statista.com/statistics/730965/online-grocery-sales-value-worldwide/
A time-starved younger population, along with increasing disposable income, provides substantial scope for growth in ecommerce. The format saves time and fuel for consumers, demands no expensive real estate investment for expansion, and is accessible even through a smartphone. In contrast, large-format physical retailing in India is facing many hurdles such as rising real estate prices, lack of viable store locations, high overheads, underdeveloped back-end infrastructure, pilferage and lack of trained manpower. The limitations of large format retailing in countries like India and China facilitate the explosion of online retailing.
With the entry of online retailers in the grocery sector, we may be witnessing another disruption which large-format retailing could not achieve—reduction of the market share of small retailers. This has already occurred in the case of music (almost totally), books (substantially), and mobility products (to a large extent). Large-format retailers such as supermarkets have not been able to take business away from kirana stores in India, even after offering discounted products.
As food and grocery retailing constitutes almost 60% of total retail sales in India and China, and small-format shops comprise more than 96% of retail stores, this category is expected to define the future growth of online retail formats in India. As online and kirana stores have very distinct business models, whereas the 'big box' retailers offer values similar to online stores (a wider assortment and lower prices), it is suggested that these formats can complement each other and together deliver very high value to consumers.
References:
http://knowledge.wharton.upenn.edu/article/online-groceries-in-india-will-consumers-bite/, accessed on November 21, 2018

Portal.euromonitor.com, Euromonitor International – Login 2014. Available at http://www.portal.euromonitor.com/Portal/Default.aspx, accessed 1 Sep 2014
Related Resources:
Format Choice of Grocery Retailers

, Prof. Piyush Sinha, Elizabeth Mathew and Ankur Kansal, 2005

Available for download

Store Choice Behaviour in an Evolving Market

, Prof. Piyush Sinha and Prof. Arindam Bannerjee, International Journal of Retail & Distribution Management; 2004; 32, 10; ProQuest pg. 482

Downloadable on request

Business Models in Retailing

, Prof. Piyush Sinha, 2016

Downloadable on request

The Online Consumer – Course Reading, Prof. Piyush Sinha

Upcoming book preview
Next Volume Coming Soon…..
https://cri-advisory.com/wp-content/uploads/2014/08/grocery-store-cri.jpg
1080
1920
Prof. Piyush Kumar Sinha
https://cri-advisory.com/wp-content/uploads/2018/11/LOGO_CRI-1.png
Prof. Piyush Kumar Sinha
2018-11-26 18:56:26
2019-01-22 19:11:59
Online Grocery Shopping In India